Widow's pride at hero Bill's wartime exploits (Un Anglais au "lorraine") 1ere partie
La veuve d'un aviateur anglais du Groupe de Bombardement Lorraine a été invitée à une cérémonie commémorative à Brebieres, ancienne base de l'unité d'origine FAFL
Mort récemment, l'ancien radio du N° 342 squadron avait peu parlé de sa guerre. C'est donc toute une histoire que sa famille reconstitue et qui devrait donner lieu à un livre.
www.theboltonnews.co.uk (24/10/2010) :link
"THE widow of a Bolton hero learned about her husband's wartime exploits for the first time after she was invited to a special memorial service in France.
Sarah Morris, aged 81, laid a wreath at the Vitry en Artois air base in northern France before going to a special service at the St Vaast church in Brebieres.
She was invited to the memorial service because her late husband, Bill Morris, flew with French airmen who came to England to train during the war.
Mr Morris, who died last year after suffering dementia, was a gunner and wireless operator in the 342 Free French Lorraine Squadron, usually flying in a Boston medium tactical bomber.
He received badges from the RAF for his time in the squadron but never collected his French service badges, so Mrs Morris, who has been working on a book to record her husband's wartime memories, wrote to France to request the badges.
She hoped it would cheer up Mr Morris and help him with his illness, and was shocked when she received a reply, and the badges, from a French general, Gen Y M Guegen, who flew with her husband in the war.
She stayed in contact with his office, and although he has since died, his secretary suggested that she go to this year's memorial service. Soon afterwards she received an invitation from the mayor of Brebieres.
Mrs Morris, her son Jim Morris and daughter-inlaw Gill Morris, were the only English people at the ceremony, and afterwards they enjoyed dinner with a group of English-speaking French veterans in a restaurant which used to be the Luftwaffe's officers' mess.
Mrs Morris, of Vermont Street, Heaton, said: "The reception we got was wonderful.
Everyone was so interesting, and the conversation we had — I'll never forget it.
"I learned a lot about Bill's as well — I was amazed at what he had been doing during the war.
"I learned about his career and how he could keep it all to himself.
"We didn't talk about it, and it's no wonder when you see what they went through, each day playing Russian roulette with their lives."
Mrs Morris has just finished the book about her husband, Bill Morris — A Lucky Life, and is now looking to get it printed. "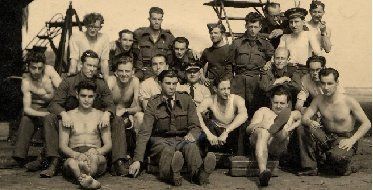 Source photo : http://mairie.brebieres.pagesperso-orange.fr/2000_10.html
Partager cet article
Pour être informé des derniers articles, inscrivez vous :