'What a life I have had' (Happy birthday, Ms Bourguet)
"'What a life I have had'
By Gavin Havery
Reporter (Derwentside & Tyneside)
THE NORTHERN ECHO du 22 décembre 2010 link
A cabaret dancer who fled Paris during the Nazi occupation of France has celebrated her 100th birthday. Betty Bourguet tells Gavin Havery why it's a wonderful life.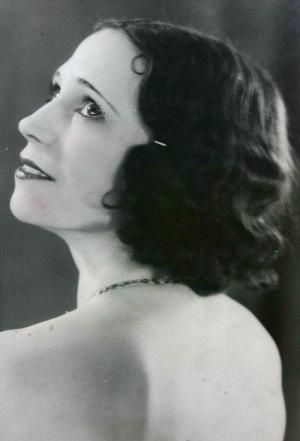 HEAVY snowfall and ice has caused misery for many travellers this Christmas, with international flights grounded and the transport network struggling to cope.
But 70 years ago, in the autumn of 1940, one woman had a real nightmare getting back home to her native North-East.
Betty Bourguet, who was born Ellen Hughff, in Sheriff Hill, Gateshead, had been working as a dancer in Parisian theatres when the Second World War broke out.
One of nine children to coal miner William Hughff and his wife, Mary, she was raised in Burnopfield, County Durham, but left school aged 14 with her heart set on stardom.
She was employed by comedian and impresario Archie Pitt, who was married to Gracie Fields, and spend the years between the wars working in the capital cities of France and Germany.
Dancing under the stage name Betty Beaumont, she was working at the Winter Garden, in Berlin, in 1933, when a young Austrian by the name of Adolf Hitler became chancellor.
Mrs Bourguet recalls: "There was a little dance hall and we loved ballroom dancing, so if we ever got an hour off work we would go dancing.
"There was a table with a telephone and if a chap wanted to dance he would telephone you and you could then say no without being rude.
"It was all very sophisticated, but everyone I danced with had a gun on them."
At the time of decline of the Weimar republic, the German capital had a reputation for Bohemian decadence, but the increasingly intimidating political situation could not have prepared the impressionable 23-year-old miner's daughter for what was around the corner.
She said: "At the time, we did not think anything of it.
"There was no sign of war in England and there were small signs in Berlin, but we weren't really interested in things like that.
"There was a funny atmosphere, but we, as girls, did not know about war.
"It took us by surprise when it eventually started."
In Paris, she married Frenchman Henri Maurice Bourguet link , a nightclub manager, but when war was declared he joined the army.
But France fell quicker than expected as a result of Germany's Blitzkrieg tactics and, fearing for her life, Mrs Bourguet and her husband, who was working as an English interpreter, realised they had to flee.
Mrs Bourguet, who was three months pregnant, was smuggled out of Le Mans to Saint-Malo among petrol containers on the last French army lorry.
Mrs Bourguet said: "We got word that the Germans were approaching. They were getting nearer and nearer and we had to get out.
We were told to take nothing and go. We had to destroy everything as we went, so the Germans couldn't use our stuff."
Mrs Bourguet had to stay hidden from soldiers on the perilous 100-mile journey because she was a civilian and not supposed to be in the back of a military vehicle.
It was particularly dangerous because the area was being shelled by the advancing forces.
Mrs Bourguet said: "At one stage, the Germans were two kilometres away. I have never been so frightened."
From Saint-Malo, the couple stayed with friends before heading to Marseilles, but when they crossed the Spanish border Mr Bourguet was held by Spanish authorities.
Mrs Bourguet travelled alone through Barcelona, Madrid and Lisbon by train before securing a safe passage to Britain around Ireland to avoid the Nazi U-boats.
Back in Hobson, County Durham, Mrs Bourguet gave birth to Morris, now 70, and was eventually reunited with her husband, who went to work in London for the Free French Army.
Mrs Bourguet became a grocer and ran several businesses before retiring and returning to the region, where she still enjoys cooking and gardening at her home in Pearson Street, Kip Hill, Stanley.
On December 14, despite smoking until the age of 97, she celebrated her 100th birthday with family and friends, and her card from the Queen has pride of place on her sideboard.
But she also has momentos of a previous life that took her across war-torn Europe with her unborn child, who went on to give her two grandchildren and a great-granddaughter.
Her most treasured possessions include glamorous black and white photographs, foreign telegrams, passports full of stamps and visas; hallmarks of a well-travelled woman with a wealth of experiences.
"What a life I've had," she said."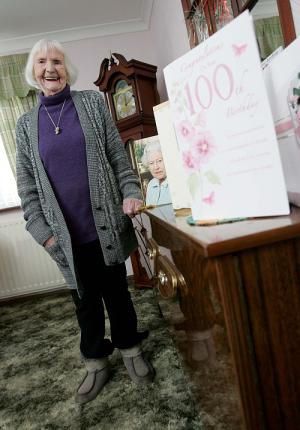 Partager cet article