Late classical music critic's life recalled
http://www.jewishaz.com/issues/story.mv?130104+critic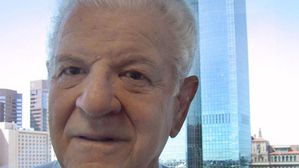 ---
Once, when Dimitri Drobatschewsky, former classical music critic for The Arizona Republic, was facing a group of musicians upset that he had savaged one of their number in a recent review, the host of the discussion asked him, "What do you think is the most important criterion for being a music critic?"

Drobatschewsky thought for a moment and then said, "Well, he must have a long name." The ensuing laughter defused the situation.

That story was among those told about Drobatschewsky during a private memorial gathering at his daughter's West Valley home this past weekend. He died Dec. 15, 2012, at age 90. The story demonstrated that while Drobatschewsky took music seriously and wrote about it in a very serious tone, he did not take himself at all seriously.

"I think I broke my father's heart when I decided to stop playing oboe and piano," said his daughter, Stephanie Drobatschewsky, but she added that he was "the best father anyone could want" and disappointed as he may have been, always supported her right to be herself. She told Jewish News that going to concerts with her father as a little girl "was really very fun because everybody knew him. It was always a great experience."

But while music always played a central role in his life, Dimitri Drobatschewsky's story isn't just about his career as a music critic, which spanned 18 years at the Republic and, after his 1996 retirement, a freelance career - which included writing for Jewish News and program notes for the Phoenix Symphony - that lasted till about eight months ago. (That's when he "started phasing things out" after a stroke, his daughter said.)

He was born into a Russian Jewish musical family in Berlin in 1922. The family fled and settled in Luxembourg after Hitler came to power in 1933.

"In 1940, he fled alone, on bicycle from armed Nazis, to France, where he joined the French Foreign Legion," said Richard Nilsen, former art critic at the Republic who knew Drobatschewsky well. "When France fell and the Foreign Legion became an arm of the collaborationist Vichy government, he deserted in North Africa, under actual gunfire, to join de Gaulle and the Free French troops.

"He fought in Italy as the commander of an anti-tank gun," Nilsen said. "He saw the misery, terror and degradation of war and came to hate it passionately."

Drobatschewsky published a memoir in 2003 called "My Father's Son." It demonstrated the love of music that his father instilled in him, and detailed the arc of his life from Berlin to Luxembourg through the war and to the United States, where he had a career as a traveling salesman, several failed marriages, and his longtime role as a classical music critic in a place where country music ruled the roost.

"Miraculously, I have survived the war, and I was able to live a life that was filled with beauty," he wrote in the book. "But I will never forget that it was my father who enabled me to hear and fully experience music, and thus introduce me to the noble art form that has become my religion, and that I will forever associate with his memory."

"Although he had no belief in God or gods, (Drobatschewsky) had faith in two things: music and human goodness," Nilsen said. "The first is understandable. He said (Gustav) Mahler was his religion, and he imbibed the spirit of Mozart and Beethoven from his father, a well-known violinist in pre-War Germany, and his mother, a cellist. He came to know many of the greatest names in classical music from the first two-thirds of the 20th century."

Nilsen went on to say that Drobatschewsy's faith in human goodness "was harder to understand," given that "Dimitri's beloved father was deported to Auschwitz, where he died. Dimitri saw the worst that mankind can perpetrate."

I worked closely with Drobatschewsky when I began writing pop music criticism for the Republic. On April 16, 1988, the Republic published our side-by-side reviews of the Phoenix Symphony Pops Orchestra's premiere of a piece called "The Phoenix," with trumpeter Doc Severinsen as the soloist. Drobatschewsky was in his late 60s at the time but was still game to try an experiment like that, and cheerfully showed me the ropes.

The last time I saw him, we had lunch at Katz's on Central Avenue. Although he and Katz's are both gone now, he seemed more indestructible and the less likely to ever be done with this world.

I remember discussing with him what might be the only burning Jewish question left in his life after his father's passing at the hands of the Nazis: his love of the music of Richard Wagner, a self-proclaimed anti-Semite.

He even wrote about it for Jewish News ("Separating art from the artist," May 16, 1997), in a piece about why he decided to go to the Wagner music festival in Bayreuth, Germany. Basically, he wrote, the music was too beautiful for him to denigrate. The composer, on the other hand, was just one of many unsavory characters in the arts, he wrote: "I merely wanted to demonstrate the necessity to separate the man from his art, and to partake of his creativity, even if the artist is less than a saint. If we were to apply to the artist standards of morality that are as heavenly as his art, there would be very little art left to enjoy."

His daughter created a playlist of his favorite music that nurses at a Goodyear unit of Hospice of the Valley faithfully played while he was unresponsive in his last days there; she asks people to donate to the organization.

Drobatschewsky is also survived by his son, Serge; another daughter, Michelle Russing; nine grandchildren; and six great-grandchildren.
---
Partager cet article
Pour être informé des derniers articles, inscrivez vous :